Something New..
I've been doing a bit of finger painting lately, as part of my continuing efforts to loosen up, have fun and try new things.
It seems like every time I do manage to loosen up a bit, I do really well for one or two pieces.
But then I gradually backslide until I'm doing waaay too many hard lines and I begin to lose that impromptu, expressive feel.
I really love the loose, organic feel I've found with this piece.
I especially like how the body and red bow or scarf on her head just appeared to me out of the background as I was finishing her face.
The two canvases I've done since have moved further away from that feeling, but I'm really quite happy with them, too.
I'll share them with you later this week and you can tell me what you think.
At the moment, it's looking as though I need a big sign on the wall, reminding me to just let go & become a loose woman..
Today, I'm linking up with Inspire Me Monday.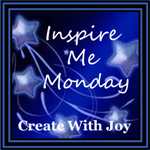 ---
---